Our Franchise Program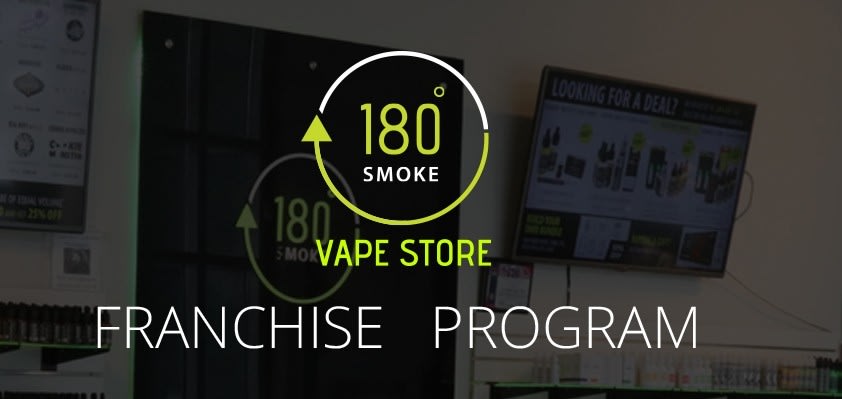 Great Return On Investment
No Marketing Experience Required
Store Design, Planning, & Bill of Material
Payment Processing & POS Assistance
Vape Wholesale
Dedicated Agent for Your Account
Wide Selection of Products
Convenient Shipping Options
Order Online Via Our Dedicated & Easy-to-use Website
Large Discounts for Large Orders
180 Smoke Corporate
Business Opportunities with 180 Smoke
Who We Are
With a multidisciplinary team of innovative leaders, it's no surprise that 180 Smoke Vape Store is one of the fastest growing vape companies in North America. Our company was established in 2012, co-founded by Canadian cardiac surgeon and vaping advocate Dr. Gopal Bhatnagar. Collectively, we are motivated by the revolution of public health through disruptive harm-reduction technology.
What We Do
Our mission is, and has always been, helping people get access to harm-reduction alternatives, and having multi-channel experience in the industry makes us subject-matter experts. As pioneers in Canadian vaping industry, we understand the ins and outs of retail, wholesale, manufacturing, licencing, marketing, and business operations from experience. We have the business know-how, channel mastery, marketing expertise, industry relationships, and strong vendor and supplier relations that make us leaders in the Canadian vaping industry.
How Can We Help You
Whether you're interested in becoming a franchisee, carrying our products in your store, or joining our growing team, we've got you covered. We bring our reputable brand, technical knowledge, strategic marketing, and unique business model to the table, helping you to thrive in a fast-paced, growing industry without the hassle.
180 Smoke Was Featured On:
"Vaping is a solution that was created by smokers for themselves because the medical approach has failed them."
Dr. Gopal Bhatnagar
M.D., FRSC, Cardiac Surgery
Co-Founder & Chief Medical Adviser